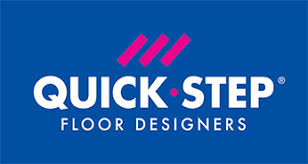 Quickstep
Quickstep is the market leader in laminate flooring, With Quick-Step's broad choice in laminate flooring designs, you can create a truly extraordinary home. And a comfortable one too, thanks to the combination of laminate with underfloor heating. The impeccable quality of our products is backed by decades of experience as a trend-setting flooring pioneer.
3 reasons to choose Quick-Step laminate flooring
Just like the real thing
Inspired by the latest trends in architecture, fashion and design, the Quick-Step design team constantly dreams up inspiring new floors that breathe naturalness and authenticity. The result? Laminate floors with an unmatched level of realism even in the smallest details.
The resistance you need
At Quick-Step, we take protecting your floor seriously. Smart innovations, such as Scratch Guard & HydroSeal technology, make sure that Quick-Step laminate floors offer excellent protection against scratches, stains and even surface moisture.
Easy to install
Laying a Quick-Step floor is a breeze thanks to the patented and world-famous Uniclic click system.
Brighten up your home with Quick-Step Vinyl flooring's natural looks and characteristic warmth. Quick-Step Vinyl is perfectly compatible with underfloor heating. Choose from a wide range of vinyl floors suitable for all needs and circumstances. All are equipped with a protective top layer that ensures your floor will keep its good looks for years to come.
Quickstep livyn range

Quickstep Vinyl Beauty made to last
All Quick-Step vinyl floors have a protective top layer that makes them water-, scratch- and stain-resistant. This ensures that your floor will always look as perfect as it was when you first installed it.
A pleasure to walk on
Treading on a Quick-Step vinyl floor is a pleasant experience in every way: their natural designs catch the eye, they feel soft and warm, and their acoustic performance gets rid of any unwanted noise from heels, boots, trainers or paws.
Ideal for renovations
Renovating? Quick-Step vinyl flooring is very thin and easy to install (thanks to our patented Uniclic Multifit click system). And with the addition of Rigid vinyl, there's now a vinyl solution for any type of subfloor (levelled, irregular, or very irregular).
Balterio

Balterio Laminate Flooring is counted amongst the leading flooring brands on the market with a range and decor to suit any interior. Manufactured in Belgium to the highest standard Balterio Laminate flooring has found favour with Irish consumers for many years. These quality Laminate floors are prized for their ease of installation with the unique "Click" rolling system. Balterio planks come in a variety of sizes. Whether they are extra-long, wide or narrow their quality is outstanding.
Herringbone
We have a large range of herringbone laminate floors.  A herringbone laminate floor will add depth and interest to your home, and it's easier and less expensive to install than a solid hardwood or engineered hardwood herringbone floor. ... Laminate flooring makes it possible to create a beautiful and durable herringbone floor for a fraction of the cost of solid wood. Call in to shop to see the full range of colours